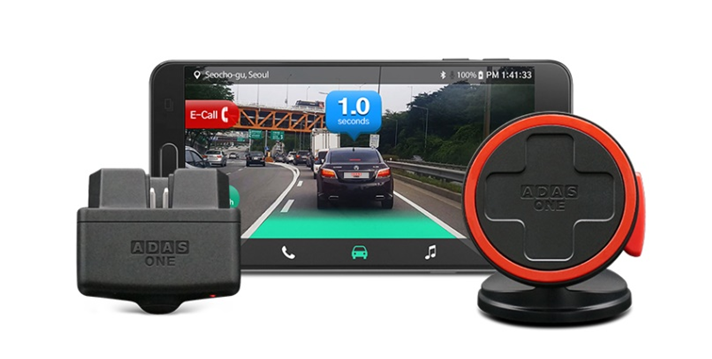 ADAS ONE Co., Ltd (CEO Kim Tae-geun, www.adasone.com) announced that the AONE product, the advanced safety driving support system (ADAS) for smartphones, won the Grand Prize at the 2017 Smart App Awards sponsored by the Korea Internet Specialists Association.
This year's Smart App Awards, hosted by the Korea Internet Specialist Association and hosted by the EYE awards committee, selected the most innovative and excellent mobile app among the mobile apps presented to consumers during the year by a professional evaluation committee composed of 3,000 Internet experts. A total of 239 smart apps competed and 371 companies participated in the 8th Smart APP Awards in 7 categories and 32 fields.
AONE, which won the Best Award in the Smart App Awards, was successfully funded and launched last year at Kick Starter, a global cloud funding site. It has been awarded as a product that can contribute to driver's safe drivingthanks to its LDWS, FCWS, FVSA functions.
Moreover, AONE is the world's first smartphone app ADAS solution that can use ADAS function by simply using an application from personal smartphone. Therefore, AONE was developed to provide convenience to the driver and to make safety functions accessible at a low price.
In the near future, AONE App will not only be available for Android phone users but also for Apple iOS users. AONE provides Bluetooth, speed, break and accelerator information through the in vehicle OBD-II connection device. Based on the collected information, AONE application can detect lane departure alarm at 60km / h or more.
In addition, AONE provides an E-Call function that allows quick rescue requests for nearby residents, insurers, and 119 in case of an emergency. The system sends SMS messages containing the vehicle's GPS coordinates to the pre-registered contacts.
AONE was designed with the user's safety and convenience as top priority, therefore; the device has been made as simple to configure as possible. The device can easily be installed by attaching the smartphone mount on the windshield, fixing the smartphone, connecting the OBD-II scanner, and finally running the AONE application.
[Contact] ADAS ONE Team: 02-2279-1400 / marketing@adasone.com