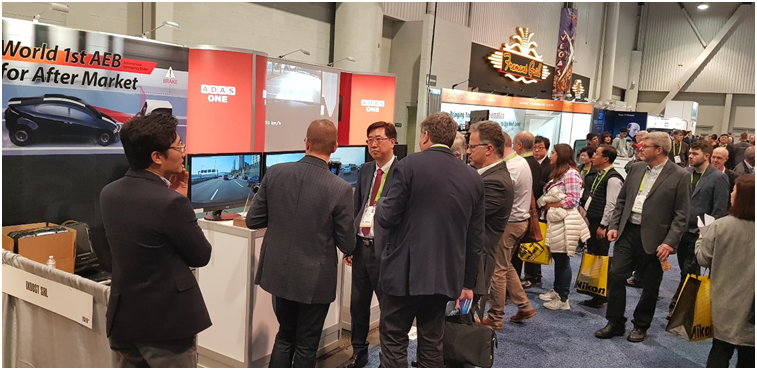 ADAS ONE took part in the CES 2018 Exhibition the world's largest IT appliance exhibition in Las Vegas from January 9 to 12. ADAS ONE took this opportunity, to introduce publicly HX515, the world's first autonomous emergency brake (AEB) system designed for aftermarket. HX515 was welcomed with huge optimism and applause.
One of ADAS ONE's goals is to make safety as much accessible as possible. Therefore; the development of an AEB specifically designed for aftermarket will allow vehicle owners to have the possibility to access driving assistance systems.
ADAS ONE's AEB system is based on Deep Learning AI technology and the system works autonomously to prevent car accidents. The AEB system initiates the brake via the actuator which is connected to the actual brake in order to adjust the vehicle's speed and or stop the car. The system is triggered If the distance between the preceding vehicle and the radar sensor is smaller than the preset value, and if the driver does not respond to imminent collision risk.
CES 2018 Booth: main hall North Hall, LVCC, Tech East 9520.